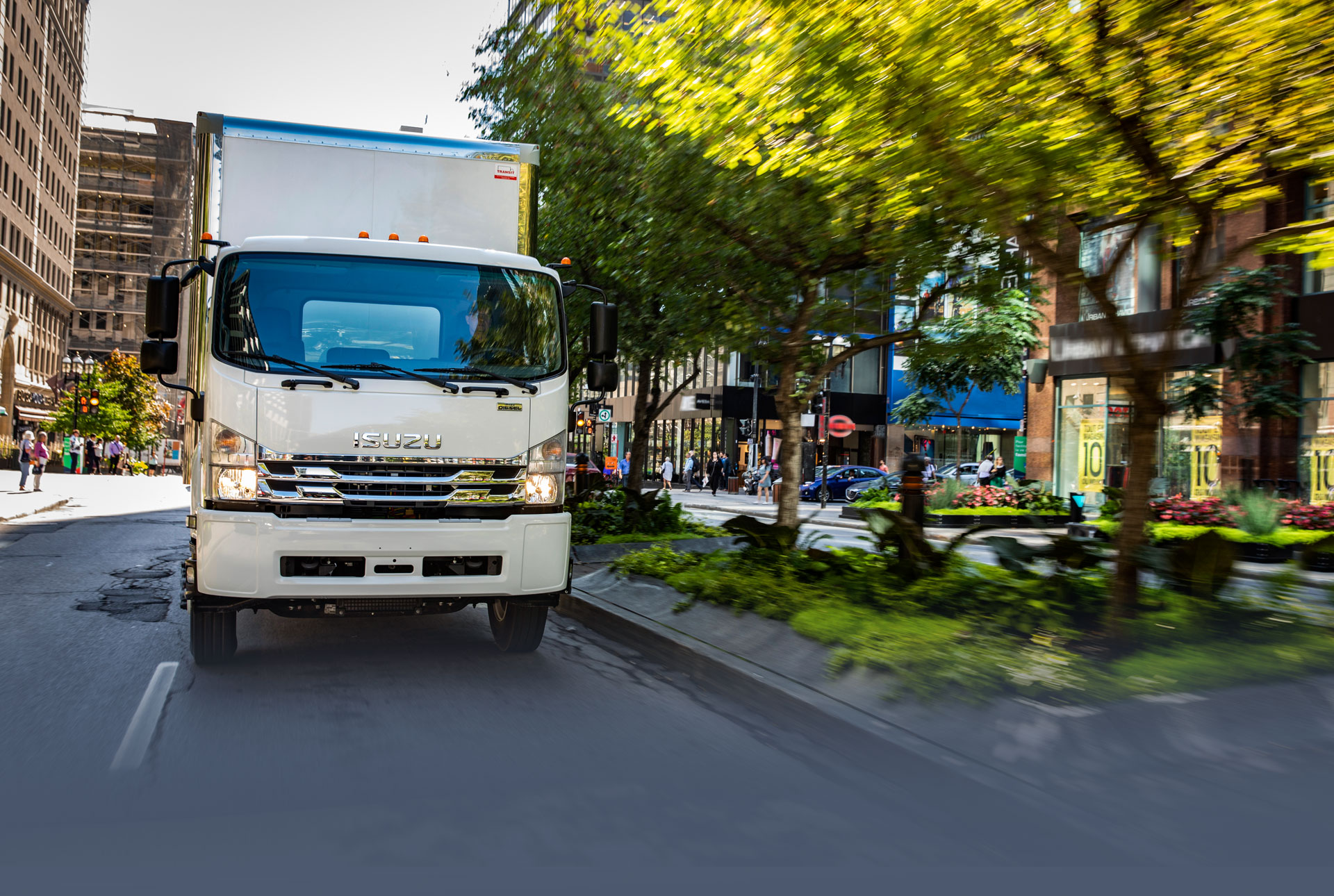 F-SERIES
THE LCF ANSWER
FOR CLASS 6 EFFICIENCY
FIND A DEALER
The 2018 Medium-Duty Truck of the Year wasn't picked by truck analysts and journalists; it was voted on by professional fleet managers who were asked to consider which of the nine competing trucks best fit their fleet requirements, including application effectiveness, durability, quality, servicing, maintenance, and lifecycle costs. The FTR was designed for the urban environment and fits numerous applications across many vocational markets. From food delivery to construction, the FTR can be easily upfitted across its offering of eight wheelbases. Powered by an Isuzu 5.2L turbocharged four-cylinder diesel engine mated to an Allison transmission, the FTR is equipped for the most demanding hauls.
Features
Isuzu trucks are packed with features that enhance comfort, convenience and safety. From Isuzu's Low Cab Forward design that provides greater visibility than conventional cabs to the standard Bluetooth capable radio, Isuzu trucks meet your business and driving needs.
Three across seating
Suspension seat with
adjustable height control
Exclusive isuzu hexapod cab with spacious interior and
space for storage behind the seats; Interior also includes
ground clearance mirror and overhead console
MODEL SPECIFICATIONS
Offering eight (8) wheelbases from 152 to 248-in., the diesel-powered FTR can accommodate bodies ranging from 14 to 30 ft. and has a GVWR of 25,950 lbs.
FTR (Diesel)

GVWR/GCWR: 25,950/30,000 lbs.
Class: 6
Body/Payload Allowance: 15,193-16,397 lbs.
Engine:
Cab: Standard
Body Application: Up to 30 ft.


FVR (Diesel)

GVWR/GCWR: 33,000/33,000 lbs.
Class: 7
Body/Payload Allowance: 22,143-23,012 lbs.
Engine:
Cab: Standard
Body Application: Up to 30 ft.


FVR De-Rate (Diesel)

GVWR/GCWR: 25,950/33,000 lbs.
Class: 6
Body/Payload Allowance: 15,093-15,962 lbs.
Engine:
Cab: Standard
Body Application: Up to 30 ft.

WARRANTY
Standard Vehicle Coverage
Warranty Limitations
(Time or Mileage,
Whichever Comes First)
Time in Years
Vehicle Kilometers
Basic
3
Unlimited
Engine

Front Axle I Beam
Crossmembers
Flywheel Housing
Clutch Housing

3
Unlimited
Frame Rails
5
Unlimited
Engine Emission Control System
5
160,000
Cab Sheet Metal (Rust Through)
5
Unlimited
Cab Sheet Metal (Corrosion)
5
Unlimited
Tires
2
38,400
*See your authorized Isuzu dealer for warranty details
EXTENDED WARRANTY
ENGINE

Cylinder block, cylinder head, oil pan, oil cooler, thermostat housing, flywheel, intake manifolds, and the following internal parts: oil pump, pistons with rings, liners, crankshaft and bearings, connecting rods and bearings, head bolts, cylinder head gasket, intake and exhaust valves, rocker arm assembly, camshaft and bearings.
Please note that the transmission and the steer & drive axle plus drive shaft are NOT covered. However, Allison may offer an extended transmission warranty. Please contact your local Allison distributor for details.
EXTENDED WARRANTY PLUS
FUEL INJECTORS

Fuel injectors, fuel pressure limiter, fuel injection pump, fuel rail pressure sensor, fuel temperature sensor, common fuel rail and high pressure lines.

TURBOCHARGER
ALTERNATOR
STARTER

Starter, starter drive assembly, starter motor assembly.

WATER PUMP
ROADSIDE ASSISTANCE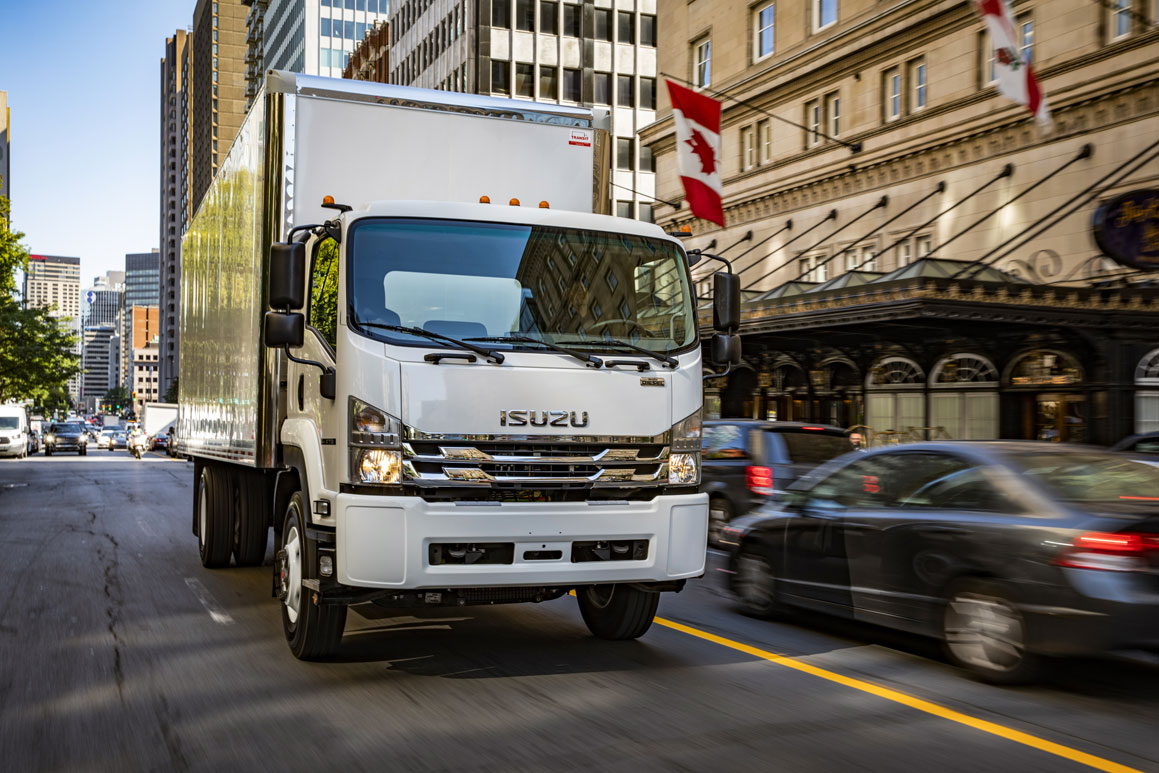 AFTERTREATMENT COMPONENTS
DIESEL PARTICULATE (DPF) FUEL INJECTOR
DIESEL (DPF) FUEL PRESSURE SENSOR
PARTICULATE MATTER SENSOR
EXHAUST TEMPERATURE SENSOR (POSITION 1)
EXHAUST TEMPERATURE SENSOR (POSITION 2)
FRONT EXHAUST PIPE
DIESEL PARTICULATE FILTER
EXHAUST CATALYTIC CONVERTER (DOC)
EXHAUST PRESSURE DIFFERENTIAL SENSOR
DIESEL EXHAUST FLUID (DEF) LINE (TANK TO PUMP)
DIESEL EXHAUST FLUID (DEF) LINE (PUMP TO INJECTOR)
DIESEL EXHAUST FLUID (DEF) HEATER VALVE
DIESEL EXHAUST FLUID (DEF) CONTROL MODULE
DIESEL EXHAUST FLUID (DEF) SUPPLY PUMP
DIESEL EXHAUST FLUID (DEF) INJECTOR
DIESEL EXHAUST FLUID (DEF) SENSOR
DEF BACKFLOW VALVE
SCR CATALYST
SCR EXHAUST TEMPERATURE SENSOR
NOX SENSOR #2
NOX SENSOR #1
EMISSIONS SYSTEM WIRING
*See your authorized Isuzu dealer for extended warranty details
Gallery